CENSORED
Participation Information
UK Series
1.5
Robot Statistics
Weight
Middleweight
Weapons
None

Robot statistics correct as of its most recent appearance on the show
CENSORED was a small wedge shaped weaponless robot that failed to qualify for Series 1 of Banter Wars but was given a chance to fight in the Scrap Iron championship in Series 1.5 for a chance to qualify as a substitute for Series 2. Despite being quick, it lost after being immobilised by Bribery.
Robot History
Edit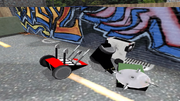 It was in a four way melee against Bribery, The Host and Neddard the Nissan. It started well, slamming Bribery into the fence and almost overturning it, almost immobilising Bribery as it had no srimech. It rocketed backwards which caused Bribery to chase after CENSORED and begin slicing into it, causing major damage. The two robots began fighting by the wall as The Host sped towards them with the heavily damaged Neddard the Nissan. As Neddard the Nissan was finished off and immobilised by Bribery, The Host flipped CENSORED over and it landed on its side. CENSORED recovered but was then immobilised by the flywheel of Bribery, which meant it failed to qualify for Series 2.
An upgraded CENSORED reappeared in Banter Wars Friendly #3, being matched up against overhauled former champion The PM's Pulverizer, Series 1 finalist An Ordinary Robot? Blimey!, and newcomer 180 Overturn Tiger. On the Bridge of Doom arena, the four robots engaged the one opposite them. In CENSORED's case, it charged The PM's Pulverizer, getting flipped onto its side from The PM's Pulverizer's spinning axes, allowing The PM's Pulverizer to drop it into the trench below the bridge. CENSORED could not get underneath The PM's Pulverizer, being battered about by its spinning axes as it tried to get away from The PM's Pulverizer. The fight moved up one of the ramps after The PM's Pulverizer knocked CENSORED away, close to 180 Overturn Tiger (who had been overturned by this point) and An Ordinary Robot? Blimey!, who end their fight with two more opponents moving in. While An Ordinary Robot? Blimey! disengages, looping around to the other side of the trench, 180 Overturn Tiger teams up with The PM's Pulverizer, assaulting CENSORED with its pneumatic spikes, but the wideness of The PM's Pulverizer causes it to high-center 180 Overturn Tiger on the sidewall of the pit. CENSORED, having been mauled by its opponents, loses both of its wheels to The PM's Pulverizer, eliminating it from the fight just as An Ordinary Robot? Blimey! rejoined the fray. An Ordinary Robot? Blimey! grabs the wheel-less corpse of CENSORED, taking it over to the ramp, where An Ordinary Robot? Blimey! high-centers itself on the lower edge of the ramp, and is counted out alongside the destroyed CENSORED. This meant that CENSORED lost the friendly.
Wins/Losses
Edit
Series Record
Edit
Series 1: Failed to qualify
Series 1.5: Scrap Iron
Series 2: Failed to qualify