Click Me!
Participation Information
UK Series
1
Team
Spam! Spam! Spam!
Team Members
Diablo
Other Entries
Win! Win! WIN!
Robot Statistics
Weapons
Pop-up spikes and flipper

Robot statistics correct as of its most recent appearance on the show
Click Me! was a wedge shaped robot armed with deadly pop-up spikes and a flipper. It only fought in the Sumo event of Series 1, and won its only match. The team entered with the equally successful Win! Win! WIN! The robot was built by Robot Arena 2 player Diablo.
Robot History
Edit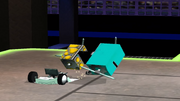 In its Sumo battle, it was up against Faithful Quadcycle. Almost immediately Click Me! breaks off one of the legs from Faithful Quadcycle and shoves it to the edge. It tries to shove it off but gets caught underneath the larger machine, taking damage from the axe of Faithful Quadcycle. Click Me! is almost knocked immobilized by Faithful Quadcycle but then tosses the opponent onto its side before getting in from the back and shoving it out of the arena.
Wins/Losses
Edit
Series Record
Edit
Series 1: Sumo only
Series 1.5 - 3: Did not enter
For some reason, despite winning their Sumo fights both robots from Spam! Spam! Spam! (Click Me! and Win! Win! WIN!) did not enter the final, even though it would have had 5 competitors at least one of the robots would be involved.
Both Click Me! and Win! Win! WIN! are from Starcore AI V3 on the team Spam! Spam! Spam!