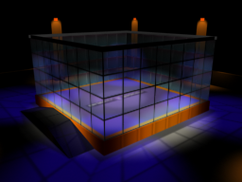 The Combat Arena is an arena used in Banter Wars Series 1.5 primarily for the Weapons Match competition.
General Description
Edit
The arena is square in shape and is surrounded by perplex glass, meaning there is no way for an OOTA to happen. The arena is purple with a yellow border and a the Robot Arena 2 logo in the centre. In the arena there are two spike traps with one set of "killsaws" which are highlighted with black and yellow warning stripes.
Spike traps - A two sets of three pneumatic spike traps appear in the arena and will stab robots which are on top of it.
Killsaws - Like the spike traps the killsaws pop out from the ground when a robot is on top of it. These can be glitchy and causing some competitors to fall out.
Differences to real life
Edit
The Combat Arena is based off of the Battlebox from Battlebots.
There are no screws on the side walls.
The arena isn't lined with spikes.
The positioning of the pneumatic spikes and "killsaws" are different.
The colour of the arena is very different.
Rather than having "Battlebots" in the centre it has Robot Arena 2.