Floppy Frog

Participation Information
UK Series
1.5
Robot Statistics
Weapons
Vertical Flywheel

Robot statistics correct as of its most recent appearance on the show
Floppy Frog was a small, wedge-shaped robot armed with a large vertical flywheel. The robot theoretically became a reserve robot for Series 2 following its victory in the Scrap Iron competition, but for unknown reasons did not appear.
Robot History
Edit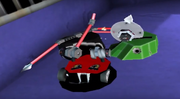 In its Scrap Iron battle it fought SoulDevil21 and Death Ripper. As SoulDevil slammed Death Ripper, Floppy Frog slowly came over and began to slice Death Ripper. As SoulDevil attacked the Observabot, Floppy Frog and Death Ripper were stuck together and are almost counted out until SoulDevil flipped Death Ripper onto its back. The three robots clash together, none getting any good attacks in, that is, until Floppy Frog attacks the flipper of Death Ripper and eventually tips it over. After a while SoulDevil and Death Ripper self right and are instantly shredded by Floppy Frog, in fact SoulDevil loses a flipper. Floppy Frog tips the crippled SoulDevil over again and then takes off Death Ripper's blade. As SoulDevil is counted out Death Ripper fights Floppy Frog but neither could damage one another due to their shape, then Observabot accidentally flips Floppy Frog on its back. Floppy Frog is almost counted out but is saved by the Observabot but the round soon ends. Floppy Frog was declared the winner via a judges decision.
Wins/Losses
Edit
Series Record
Edit
Series 1: Did not enter
Series 1.5: Scrap Iron #2
Series 2: Unused backup, did not compete.