Gamergician

Participation Information
UK Series
1.5 - 2
Team
Bald Man Aaron
Team Members
Bald Man Aaron
Robot Statistics
Weapons
Scoop

Robot statistics correct as of its most recent appearance on the show
Gamergician, originallyBald Man Aaron and/or Gamersleight in Series 1.5 (hence the GS), is a hexagonal shaped rambot armed with a scoop. It debuted in Series 1.5 by putting on a good performance with its very good pushing power before making a fatal mistake that cost it its only battle in the series. It returned to Series 2 under the name Gamergician where it performed decently getting to the Heat Final, losing to it's own poor driving.
Robot History
Edit
Series 1.5
Edit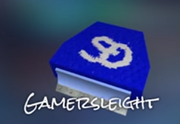 In its Sumo Qualifiers, it fought Verchix, Waistel and Gaminsoy. Immediately, Gamersleight shoved Gaminsoy onto the flame grill. Verchix and Bald Man Aaron tip Waistel over onto its back before being shoved out of the arena by Bald Man Aaron. Bald Man Aaron attacks Gaminsoy again but is then attacked by Verchix who becomes stuck on the flame grill and with Gaminsoy is counted out.
It fought Milimate in the first round of Heat B, as its new and current name, Gamergician. The battle begins with Milimate going after Observabot (though Gamergician is blammed for this). Gamergician then slams Milimate to the arena wall, with Observabot having to split the two on more than one occation. Milimate is slammed to an angle grinder where it loses a wheel. Now half immobile, Milimate is slammed to the corner of the arena and is placed at a vertical angel, unable to move. Gamergician then attacks the Observabot but ends up pitting itself.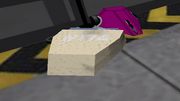 In round 2 it fought Foreigners champion YAOES.The two robots meet by the side of the arena, hitting the pit release in the process. Gamergician slams YAOES to the side wall and hold it there temporarily before shunting YAOES around and throwing YAOES about due to the sheer force of the pushes. YAOES is then flipped onto its back and onto an angle grinder. Gamergician slams YAOES again and manages to upright it only for the wheels to be cut off via the angle grinders. As YAOES is counted out Gamergician fought Observabot and won by pitting it.
Set to win the Heat it then fought Elfblade. At the start Gamergician started an onslaught on Elfblade slamming it around the arena walls and the flame pit. Then Elfblade is sent onto Gamergician's back where it drove for a short while before stopping on the flipper. The floor flipper flips the both of them sending the two flying and ultimately sending Gamergician onto it back while Elfblade survived. Gamergician is soon counted out making Elfblade the heat winner.
GAMERGICIAN - RESULTS
Series 2
Heat,Round 1
vs. Milimate
Won
Heat,Round 2
vs. YAOES
Won
Heat Final
vs. Elfblade
Lost
Wins/Losses
Edit
Series Record
Edit
Series 1: Did not enter
Series 1.5: Sumo, Qualifiers
Series 2: Heat Final