It'sa Meee!
Participation Information
UK Series
1
Team Members
Mario
Robot Statistics
Weapons
None

Robot statistics correct as of its most recent appearance on the show
It'sa Meee! was a weaponless wedge shaped robot which competed in the first series of Banter Wars and did well despite being lightweight and managed to get to the Heat Final, where it got absolutely destroyed by The PM's Pulverisor in 20 seconds. It'sa Meee! resembled Poshington's Prized Box except faster and painted to look like Mario. fter Series 1. It'sa Meee! became a middleweight front hinged flipper called Let's A Go!
Robot History
Edit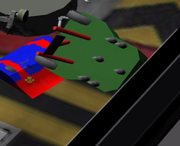 In its first round melee it fought Exploding Wolf and Kevin. It'sa Meee! attacks Exploding Wolf who in turn uses its axe to defend itself. Kevin chomps down onto It'sa Meee! which takes some damage and was almost flipped by it. It'sa Meee! then charges at Kevin tipping it on its back. It'sa Meee! shoves Kevin all around the arena, tipping it back at one moment before tipping it again for good and leaving it in the corner. It'sa Meee! went into the second round along with Exploding Wolf.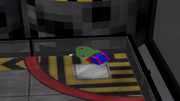 In round two it fought Twig. Immediately It'sa Meee! slams into Twig and as a result Twig is flipped onto its side. Twig is bullied for the rest of the match by It'sa Meee! by being shoved around on its back. It'sa Meee! pins Twig to the arena wall and Twig is counted out.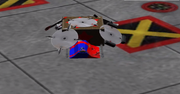 In the Heat Final it fought The PM's Pulverisor. It'sa Meee! ran circles around The PM's Pulverisor before darting towards the pit release button but is attacked by The PM's Pulverisor. It'sa Meee! cannot escape as it becomes stuck on two of the discs of The PM's Pulverisor and within seconds is immobilized by the damage caused.
Wins/losses
Edit
Series Record
Edit
Series 1: Heat Final
Series 1.5: Did not enter
Series 2: Did not enter