MyMateJim

Participation Information
UK Series
2
Team Members
The Vice President
Robot Statistics
Weapons
Scoop and axe

Robot statistics correct as of its most recent appearance on the show
MyMateJim is a beer shaped robot built by the Vice President of Banter Wars. It was armed with a scoop and axe which allowed it to prevent other competitors from pushing it around. It debuted in Series 2 and was very successful by getting to the Heat Final. After Series 2, MyMateJim's axe was extended.
Robot History
Edit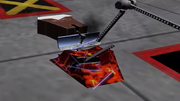 In its first battle it was up against Series 1.5 veteran VideHD. MyMateJim charges at VideHD but the two get stuck, due to MyMateJim's scoop. Observabot splits the two but they attacking each other again, this time VideHD manges to get MyMateJim upright and stuck, before VideHD reverses and frees it. MyMateJim manages to attack the armour by smaking the axe onto the top of the armour plating before trying to attack the Observabot. VideHD gets in on to the side and tries to attack MyMateJim but fails to land a single blow. After Observabot frees the two again in two quick successions and so MyMateJim starts hammering away once more this time knocking it out.
In round two it fought Sword-magedon. The two robots slammed into each other and fire their weapons hoping to cause damage, in MyMateJim's case it worked but not for Sword-magedon. Observabot splits the two which causes MyMateJim to attack it leaving its more vulnerable sides to be attacked by Sword-magedon tempoarily. MyMateJim manages to get its front facing Sword-magedon and begins to attack once more hammering it constantly before immobilising Sword-magedon.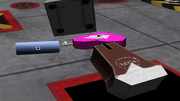 In the Heat Final it met Girls Love Gaming. The two robots collide but they are unable to attack one another. They are split apart and continue attacking with no prevail. Observabot splits the two and allows Girls Love Gaming to get a side attack. Observabot helps split the two again. Girls Love Gaming attacks MyMateJim again and this time tears off the scoop, allowing for the robot to push MyMateJim into the pit without interference.
Wins/Losses
Edit
Series Record
Edit
Series 1,1.5: Did not enter
Series 2: Heat Final