Neddard the Nissan
Participation Information
UK Series
1.5
Robot Statistics
Weapons
None

Robot statistics correct as of its most recent appearance on the show
Neddard the Nissan was a wedge shaped robot with no weapons and had a car paint-job. It failed to qualify for Series 1 of Banter Wars but was given a chance to fight in the Scrap Iron championship in Series 1.5 for a chance to qualify for Series 2 as a substitute, but it lost after taking serious damage by The Host and being immobilised by Bribery.
Robot History
Edit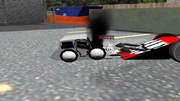 It was in a four way melee against Bribery, The Host and CENSORED. Neddard the Nissan tried pushing The Host but got continuously hammered by its two axes while also being lifted up but not overturned by its lifting spikes. Neddard the Nissan was severely damaged from The Host's attacks. Neddard the Nissan then tried backing away from The Host but was then hunted down by it. Neddard the Nissan began to smoke from the constant attacks of The Host and began driving away again but then got wedged between CENSORED and Bribery. Bribery then sliced into Neddard the Nissan with its flywheel and immobilised it, which meant Neddard the Nissan not only lost the battle, it also failed to qualify for Series 2.
NEDDARD THE NISSAN - RESULTS
Series 1.5
Scrap Iron
vs. The Host, Bribery, and CENSORED
Lost
Wins/Losses
Edit
Series Record
Edit
Series 1: Failed to qualify
Series 1.5: Scrap Iron
Series 2: Failed to qualify
Neddard the Nissan is based on AHOGS real car.