Phallus Chopper-Offer
Participation Information
UK Series
1
Team
SECOM Security Services
Team Members
Dr Doctor
Robot Statistics
Weapons
Vertical Lawnmower blade, spikes

Robot statistics correct as of its most recent appearance on the show
"This is my robot Phallus Chopper-Offer, because it chops off phalluses"
— Dr Doctor
Phallus Chopper-Offer was a wedge shaped robot that was armed with a large vertical blade and spikes on the side. It won its first round battle but lost in the second round in a shock to Silly.
Robot History
Edit
In the first round eliminator, Phallus Chopper-Offer was against Rowbott and The Rib Massager. Immediately Phallus Chopper-Offer charged straight forward towards Rowbott and damaging it with the blade, while The Rib Massager was landing blows on Phallus Chopper-Offer and Rowbott. Phallus Chopper-Offer then turned its attentions to The Rib Massager, attacking it and leaving the heavily damaged Rowbott to be counted out. Phallus Chopper-Offer along with The Rib Massager went through to the second round.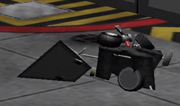 In Round Two, Phallus Chopper-Offer started off strong against the bumbling Silly. It constantly attempted to slice off a wheel and damage Silly, but with no success. Then, in a shock, it went in for a side on attack but got flipped by Silly's spike, tipping over on its side. As Phallus Chopper-Offer didn't have a srimech, it was shockingly eliminated.
PHALLUS CHOPPER-OFFER - RESULTS
Series 1
Heat A, Eliminator
vs. Rowbott, The Rib Massager
Qualified
Heat A, Round 2
vs. Silly
Lost
Wins/Losses
Edit
Series Record
Edit
Series 1: Round 2
Series 1.5 - 2: Did not enter