Poshington's Prized Box
Participation Information
UK Series
1
Team Members
Sir Duke Poshington
Robot Statistics
Weapons
None

Robot statistics correct as of its most recent appearance on the show
Poshington's Prized Box was a small wedge shaped weaponless robot. It was very similar to It'sa Meee! but slower and having a different paint job. It was not expected to do well in Series 1 of Banter Wars but it did manage to get to the second round, where it was brutally knocked out by future semi-finalist Dinner Plate.
Robot History
Edit
In its first round melee it fought The Day Ruiner and Sentencer. In the battle it mainly did nothing but observe as The Day Ruiner shredded the front of Sentencer heavily with its blades. Poshington's Prized Box tries to get involved and nudges The Day Ruiner but is then chased by The Day Ruiner and takes huge damage from The Day Ruiner's blades. As The Day Ruiner pushes Poshington's Prized Box it managed to over turn Sentencer, who didn't have a srimech, so Poshington's Prized Box went through to the second round along with The Day Ruiner.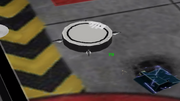 In Round Two it fought Dinner Plate which was made by Poshington's butler Jives. The two robots clash with Dinner Plate driving up Poshington's Prized Box and causing damage but only to the front. Both robots slam into each other but nothing much happens. Dinner Plate starts spinning, causing the charging Poshington's Prized Box to be thrown away and heavily damaged. The two tussle until Dinner Plate shunts Poshington's Prized Box into the corner and spins again, while Poshington's Prized Box charges it again. Poshington's Prized Box takes heavy damage and is immobilized upon the third hit, truly eliminating Poshington's Prized Box from the competition.
Wins/Losses
Edit
Series Record
Edit
Series 1: Round 2.
Series 1.5: Did not enter
Series 2: Sumo