Shelly
Participation Information
UK Series
1
Team
The Expert Team
Team Members
Billy-Bob Bill
Robot Statistics
Weapons
Pneumatic spikes and scoop

Robot statistics correct as of its most recent appearance on the show
"Shelly's a very sluggish robot but with that huge size, it's going to be difficult to flip this robot over or even get close with those massive spikes at the front."
— Adam
Shelly was a large cuboid shaped robot with pneumatic spikes all around (similar to Exploding Wolf) and a scoop. It competed in Series 1 of Banter Wars and managed to get to Round Two despite low hopes for the machine. Billy-Bob Bill also built future semi-finalist Billy-Bob Beard, who coincidentally beat Shelly in Round Two and went on after beating El Moustacheo to the Grand Final. Shelly was probably the slowest robot in Series 1 that had wheels.
Robot History
Edit
Shelly fought Pine Tree Punisher and El Moustacheo in the first round eliminator. Shelly sluggishly drove out of its CPZ and was attacked instantly by the two faster opponents. Shelly begins to fight back against Pine Tree Punisher while also using its spikes to damage El Moustacheo. The three robots push against each other with no real effect, eventually El Moustacheo and Pine Tree Punisher leave Shelly and attack one another. The pit button is pressed by the fighting robots, with Shelly slowly coming over to get in the action. El Moustacheo then pushed Pine Tree Punisher into the pit, with the assistance of Shelly. Shelly unexpectedly went through to the second round with El Moustacheo.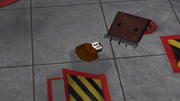 Shelly fought Billy-Bob Bill's other machine, Billy-Bob Beard in Round Two. Billy-Bob Beard goes straight towards the slow and bigger Shelly and shoves it around. Shelly rarely moves while Billy-Bob Beard tries flipping it with no success due to the size of Shelly. Billy-Bob Beard suffers some damage from Shelly's pneumatic spikes as it tries pushing it about. Billy-Bob Beard then pushes Shelly towards the floor flipper, where Shelly is flipped on its back, and Shelly did not have a srimech. The flipped Shelly is then pitted by Billy-Bob Beard, eliminating it from the competition.
Wins/Losses
Edit
Series Record
Edit
Series 1: Round 2
Series 1.5 - 2: Did not enter
The robot is supposedly an exact replica of Billy-Bob Bill's wife Shelly the Shack.