Shin Botherer

Participation Information
UK Series
1, 2
Team
Eye of the storm
Team Members
Crazed Football Hooligan
Robot Statistics
Weapons
Axes

Robot statistics correct as of its most recent appearance on the show

Shin Botherer was a wedge shaped robot with two upside down axes (sort of like kicking legs). It fought in Series 1 and was beaten in round 1. On May 20th 2016, A Heap Of Games uploaded a picture of an updated version of Shin Botherer on his official Twitter. Shin Botherer is currently a substitute for Banter Wars Series 2 if there aren't enough entries from YouTubers.
Robot History
Edit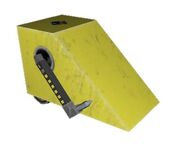 In the first round melee it fought Twig and The PM's Pulverisor. From the start, The PM's Pulverisor slammed into Shin Botherer and Shin Botherer was thrown about by the powerful discs. It was knocked onto its side and was counted out as The PM's Pulverisor and Twig fought.
In the Sumo qualifier it fought Banter Wolf. Shin Botherer was aggressive on its first onslaught slamming into Banter Wolf who just flipped about ridiculously. Shin Botherer manages to get hold of the tricky Banter Wolf and shove it towards the edge of the arena, humourously Banter Wolf flips itself out of danger and causes Shin Botherer to get stuck on the Flame pit and eventually counted out.
SHIN BOTHERER - RESULTS
Series 1
Heat E, Eliminator
vs. Twig, The PM's Pulverisor
Eliminated
Series 2
Sumo qualifier
vs. Banter Wolf
Lost
Wins/Losses
Edit
Series Record
Edit
Series 1: Round 1
Series 1.5: Did not enter
Series 2: Reserve and Sumo