SoJiNn
Participation Information
UK Series
1.5
Team
SoJiNn
Robot Statistics
Weapons
Fists

Robot statistics correct as of its most recent appearance on the show
SoJiNn was a Y-shaped ram robot armed with two fists. It first appeared in Series 1.5 and was reasonably successful, getting to the final of the Foreigners competition and winning a grudge match, however, it failed to qualify for Series 2 when it did not provide an intro.
Robot History
Edit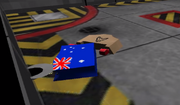 In the grudge match SoJiNn fought fellow Australian Australian Bruce's Brutalizer. SoJiNn bashes into Australian Bruce's Brutalizer and immediately causes some heavy damage. SoJiNn dominates the fight by shoving Australian Bruce's Brutalizer around and quickly immobilizes it. Like before SoJiNn then attacks the Observerbot who tussles for a short while before pushing SoJiNn onto the angle grinders and flipping it onto its back.
In the first Foreigners melee SoJiNn fought PhantomPhoenix, Devozpaz and Stelios. SoJiNn began by attacking PhantomPhoenix and shoving it toward the fence. Eventually SoJiNn backs away and attacks the other two robots who fighting each other. With assistance from Devozpaz it managed to snap off Stelios' weapon, SoJiNn then shoved Stelios around the other machines. After pushing Stelios around the place SoJiNn succeeded in getting Stelios on its side and left it to be counted out. SoJiNn came back to attack PhantomPhoenix and slammed it against the wall before attacking Devozpaz. Once again SoJiNn and Devozpaz ganged up on PhantomPhoenix before breaking the rounded bar off and tipping it onto its back only for SoJiNn to tip it back over again. SoJiNn won on a judges decision.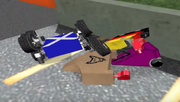 In the final it fought fellow Foreigners winners The Savage Scot, YAOES and Maria the German. SoJiNn started by attacking the tricky Savage Scot, though was unable to do anything effective. SoJiNn backs away and starts attacking the already heavily damaged Maria the German as it attacked Maria the German it lost one of its fists to YAOES' flipper. As a result SoJiNn started to attack The Savage Scot again but to an even lesser effect than before. Maria the German then starts attacking SoJiNn jabbing it fiercely, however the two robots were stuck in a loop that was until Maria the German was knocked immobilized. SoJiNn then starts attacking YAOES who had just been deposing of The Savage Scot, SoJiNn charges straight at YAOES which was a fatal mistake as it was flipped onto its back and counted out. In the end, SoJiNn was declared the runner up of the Foreigners competition.
Wins/Losses
Edit
Series Record
Edit
Series 1: Did not enter
Series 1.5: Grudge match, Foreigners Runners Up
Series 2: Failed to qualify
Series 2.5: Did not enter