The Day Ruiner
Participation Information
UK Series
1
Team Members
Bill D'Meashed
Robot Statistics
Weapons
Multiple spinning blades acting like a Drum

Robot statistics correct as of its most recent appearance on the show
The Day Ruiner was a large rectangular robot represented by Bill D'Meashed and armed with a large spinning drum which contained many different types of spinning discs. It only fought in Series 1 of Banter Wars where it managed to get to the Heat Final.
Robot History
Edit
In the eliminator it fought Poshington's Prized Box and Sentencer. The Day Ruiner instantly clashes with Sentencer, shredding the front heavily as Sentencer tries to hammer it with its hammer. Poshington's Prized Box tries to get involved and nudges The Day Ruiner but is then chased and sliced a bit by The Day Ruiner. As The Day Ruiner pushes Poshington's Prized Box it managed to over turn Sentencer who was behind Poshington's Prized Box. The Day Ruiner along with Poshington's Prized Box went through to the second round.
In Round Two, it faced heat favorite Wollington's Wawwior. The Day Ruiner starts by running circles around Wollington's Wawwior until they clash head to head. The Day Ruiner then starts decimating Wollington's Wawwior. Wollington's Wawwior begins smoking, however during the tussle, The Day Ruiner loses a blade while at the same time Wollington's Wawwior loses its scoop, but the onslaught continues. The saw of The Day Ruiner manages to immobilize the blade of Wollington's Wawwior which eventually snaps off. The Day Ruiner then swiftly finishes off Wollington's Wawwior.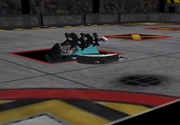 In the Heat Final, it fought Dinner Plate. The two robots meet and Dinner Plate manages to avoid being hit by The Day Ruiner's blades and presses the pit release button. Dinner Plate tries to pit The Day Ruiner but fails to do so and almost ends up in there itself. Dinner Plate then pushes The Day Ruiner to the side wall but ends up getting shredded. The Day Ruiner shoves Dinner Plate to the corner and shreds the armor again, but then Dinner Plate begins a big push and manages to pit The Day Ruiner once and for all, eliminating The Day Ruiner from the competition.
Wins/Losses
Edit
Series Record
Edit
Series 1: Heat Final
Series 1.5 - 2: Did not enter