The Dishes
Participation Information
UK Series
1
Team Members
Billy-Bob Sue
Robot Statistics
Weapons
Axe

Robot statistics correct as of its most recent appearance on the show
The Dishes was a unusual shaped robot built by Billy-Bob Sue. It looked like a pot, and was armed with an axe. It failed to qualify for Series 1, Heat B of Banter Wars but was able to fight in the side competition B-Robots Melee where it lost. The Dishes was very similar to that of DondonChai, as both robots were circular and both had an axe.
Robot History
Edit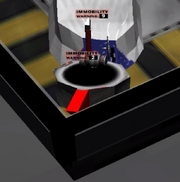 In the B-Robots Melee it fought The Random Robot in the Arena, Creepy Fingers, and Pissbrick. From the very start The Random Robot in the Arena attacks The Dishes, shoving it around causing some minor damage with its saw. As Creepy Fingers and Pissbrick were knocked out, The Random Robot in the Arena kept attacking The Dishes throughout the fight with The Dishes attempting to use its axe to little effect. The Random Robot in the Arena then shoves The Dishes across the arena and into the CPZ, where it holds The Dishes until it is counted out, which meant The Dishes lost the B-Robots Melee.
Wins/Losses
Edit
Series Record
Edit
Series 1: B-Robots Melee
Series 1.5 - 2: Did not enter