The Host
Participation Information
UK Series
1.5
Robot Statistics
Weapons
2x lifting spikes and 3x axes

Robot statistics correct as of its most recent appearance on the show
The Host was a wedge shaped robot armed with two lifting spikes and three axes. The robot failed to qualify for Series 1 of Banter Wars but was given a chance to fight in the Scrap Iron championship in Series 1.5 for a chance to qualify as a substitute for Series 2, but it lost to Bribery.
Robot History
Edit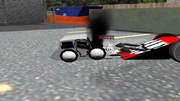 It was in a four way melee against Bribery, CENSORED and Neddard the Nissan. Neddard the Nissan tried ramming The Host with its wedge but got axed by the three axes as well as almost flipped by the lifting spikes. Neddard the Nissan suffered severe damage from this. Realising the flaw of ramming The Host, Neddard the Nissan tries backing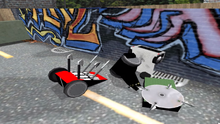 away but was then chased by The Host who continued to axe it. Neddard the Nissan tried running away but was hunted down by The Host, Neddard the Nissan then got immobilised by ramming right into the spinning flywheel of Bribery after taking so much damage. The Host joined the other opponents and instantly flipped CENSORED over on to its side, but it recovers only to be immobilised moments afterwards by Bribery. The Host used its axes against Bribery, which did work as its flywheel stopped temporarily from the attacks. Eventually Bribery's flywheel spun up and Bribery hunted down The Host, severing one of the lifting spikes. Bribery then took off two of the axes, and even tried to take out one of the wheels, but didn't as time ran out. The Host lost on a judges decision to Bribery, who went on to qualify as a substitute for Series 2.
Wins/Losses
Edit
Series Record
Edit
Series 1: Failed to qualify
Series 1.5: Scrap Iron
Series 2: Failed to qualify