The Penetrator




Penetrator 2's official Series 2 image

Participation Information
UK Series
1, 2
Team Members
Prime Minister Adam
Robot Statistics
Weapons
Ramming spike

Robot statistics correct as of its most recent appearance on the show
"Not rude at all."
— Interesting fact
The Penetrator was the first ever robot created by the Prime Minister and was in the shape of a phallic penis in both of its apperances. The robot was armed with a pneumatic spike and was considerably a favorite among fans of A Heap of Games' Robot Arena 2 series. In Series 1, The Penetrator was armed with a pneumatic spike and had a sloped shape. However despite its popularity, it was not invertible, which caused it to lose in the Series 1 eliminators in an upset. The Penetrator was drastically upgraded for Series 2 and renamed Penetrator 2. The robot, as a result of its loss in the Series 1 eliminators, was now made invertible. Instead of being sloped like the original, Penetrator 2 was instead compact and box-shaped. The pneumatic spike was also replaced with a static ramming spike. Last but not least, the robot was made faster. Despite the revisions, Penetrator 2 still lost in the first round of the Series 2 sumo after being unluckily placed up against reigning Sumo champion, Effective Shopper's Mobility Scooter.
Robot History
Edit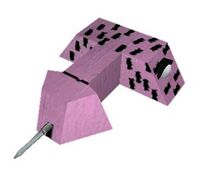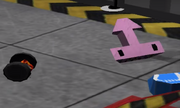 In the eliminator, it was up against An Ordinary Robot? Blimey! and Prick. At first The Penetrator started well by attacking and damaging An Ordinary Robot? Blimey!. However, Prick attacks The Penetrator, which causes The Penetrator to chase after Prick, only to get flipped by the floor flipper and on to its back. Since The Penetrator didn't have a srimech, it was counted out and unexpectedly eliminated from the competition at such an early stage.
"Still not rude at all."
— Interesting fact in Series 2
Now made invertible it fought in the Sumo against Mobility Scooter. The battle between the former sumo champion and The Penetrator 2 did not last long. Mobility Scooter attacked The Penetrator and quickly shoved it off.
THE PENETRATOR - RESULTS
Series 1
Heat C, Eliminator
vs. Prick, An Ordinary Robot? Blimey!
Eliminated
Series 2
Sumo, Qualifiers
vs. Mobility Scooter
Lost
Wins/Losses
Edit
Series Record
Edit
Series 1: Heat C, Eliminators
Series 1.5: Did not enter
Series 2: Sumo, Qualifiers