Two Geeky Friends
Participation Information
UK Series
1.5
Team
Two Geeky Friends
Team Members
Alex

Jenn

Robot Statistics
Weapons
Axe-head wheels with spikes

Robot statistics correct as of its most recent appearance on the show
Two Geeky Friends was a clusterbot that competed in Series 1.5 of Banter Wars built by YouTuber team Two Geeky Friends (made up of Alex and Jenn). They were the clusterbot champion in that series. Despite failing to qualify for Series 2 for unknown reasons, they performed decently, beating OKMultiplay in a close victory for the Grudge Match, which declared who was the better clusterbot and who was the clusterbot champion that series. Their weapons were its wheels, which were armed with axe-heads and spikes. Their method in damaging opponents was that they would slowly move around, hitting anything that came near them. Since they have not been seen in any other competition since their sole grudge match in Series 1.5, Two Geeky Friends remain one of the five undefeated robots on Banter Wars.
Robot History
Edit
From the start, OKMultiplay split and each attack one half of Two Geeky Friends. As Two Geeky Friends moved slowly about, OKMultiplay shoved them into the drop zone where bricks fell on top of Two Geeky Friends. Eventually, both halves of Two Geeky Friends split from each other with both clusters of OKMultiplay attacking the black half of Two Geeky Friends, but in turn taking huge amounts of damage from the wheels. Both clusterbots of OKMultiplay shoved the black half of Two Geeky Friends back with the yellow half, however, one-half of OKMultiplay, Kelly, overturned its self on its back on the other half, Olivia. Since both clusterbots of OKMultiplay had no srimech, now only one half of OKMultiplay could fight. Olivia shoved the black half of Two Geeky Friends about the arena, before turning attention to the yellow half. By attacking the yellow half, Olivia suffered some heavy damage and was immobilized. That meant Two Geeky Friends won the match, and were the clusterbot champions that series.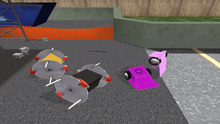 TWO GEEKY FRIENDS - RESULTS
Series 1.5
Grudge Match
vs. OKMultiplay
Won
Wins/Losses
Edit
Series Record
Edit
Series 1: Did not enter
Series 1.5: Grudge Match
Series 2: Failed to qualify
Series 2.5: Did not enter